Who is sick of the Squidge?
squidge
make a squelching noise….the mud the mud!

Nevermind! – Spring is here! Today has been a glorious bright spring day, still saturated (squidgyasmate!) underfoot however the flowers and plants are bursting forth with the change of seasons so we are planning a summer full of colour and creativity to celebrate the sunny days ahead. I had an amazing time recently on the Aotea Great Barrier Island at the opening of the IDA designated Dark Sky Sanctuary, and will going back as soon as possible to get more reference for a suite of landscapes,  'Where I meet Land, Sky and Sea'  Keep an eye out on the Waiheke Community Art Gallery for exhibition dates.
Workshops up at the studio at Trig Hill coming up: Dates TBC imminently! January 2018, see Poster below: feel free to email or ring me for more info.
Waiheke Narrative Art Making Poster
Summer in the ArtLounge 2018! –  we look forward to relaxed afternoons with new works in the lounge (and garden!) accompanied with delicious nibbles, botanical refreshments and no doubt artful conversations –  If the sign is out come on in!
Painting Piano Pictures #1 is just about finished, we captured some tasty little melodic nuggets and can't wait to share them up to Soundcloud and have them inform another group of visual works over the next few months. Looking forward to PPP #2 (got to get those hours in..:)) Huge Thanks to Sylvain Lapoiriere for the recording set up, enthusiasm cups of tea and support!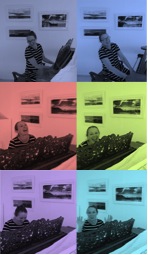 Have a great Spring everyone,  See you soon!